Here you can track the current position of all ships of the Cunard Line fleet and get relevant information about the ships.
Live Webcams Queen Elizabeth, Queen Mary 2 and Queen Victoria
Queen Elizabeth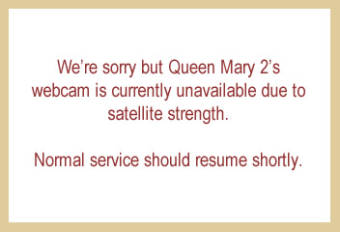 Queen Mary 2
Queen Victoria
The Cunard Line promises no travel from A to B but an unforgettable experience. At the sight of the Queen Elizabeth, Queen Mary 2 or the Queen Elizabeth guests should feel that they have an incomparable experience. The ships boast classic British elegance and offer absolute luxury. The equipment is first class, cabins, suites and rooms impress with their architecture and fine details. There are also culinary delights and the right relaxation and entertainment. The Queen Mary 2 is the flagship of the Cunard Line fleet and designed specifically for crossing the Atlantic. The Queen Elizabeth is the fleet's newest ship with state-of-the-art technology and classic style. The Queen Victoria offers a modern interpretation of the golden era of sea travel. Highest comfort and British style for a glamorous cruise.
Cunard Line Cruiseships