Current position of the AIDAcosma live
The map display of the ship's position is carried out in cooperation with AIDA Cruises.
The map display always shows you the current position of the AIDAcosma on the world map. You can zoom in or out with the mouse (or with your fingers on the smartphone/tablet) or with the + buttons and move the map freely with the mouse (or your fingers).
Current webcam of the AIDAcosma live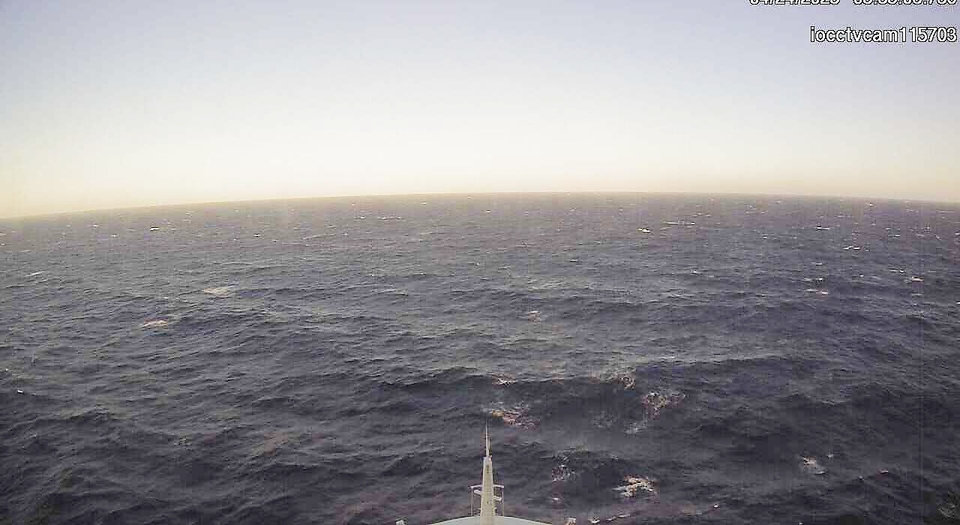 Here you can see the current view of the AIDAcosma from the bow camera. The webcam is provided by AIDA Cruises and sends live images 24 hours a day, which are automatically updated every few minutes. So you can follow where the cruise ship is currently on its way and what is happening around the ship at any time. Especially when the cruise ship is in port, it is exciting to take a look at the web camera images. © Aida Cruises
Current travel routes and areas of the AIDAcosma
Here you will find an overview of the current routes or voyages that are offered for the AIDAcosma, with the duration of the journey and the major cities served. The cruise ship mainly operates routes in the Mediterranean from Barcelona or Mallorca and in the Orient from Abu Dhabi or Dubai. The duration of the trip is usually between 7 and 14 days, with a combined trip to both destinations up to 25 days are offered.
AIDAcosma video tour and interactive 3D tour
The following video tour gives an impression of the AIDAcosma. So you can get an idea of the latest AIDA ship in advance. In the video you can see the cabins & suites, restaurants & Bars, the wellness areas, offers for children, theatres, shopping possibilities and other entertainment offers.
AIDA also offers an interactive 3D tour, where you can get a detailed impression of the AIDAcosma. You can explore the whole ship with a 3D tour. You can use the Play button to select the different areas of the ship and then use the mouse to control the camera. If you do nothing, an automatic camera rotation will be activated. Other vantage points are represented by a rectangle with a plus in the middle, click on it to get there. The following button will take you to the interactive tour.
Ship data and equipment of the AIDAcosma
| | |
| --- | --- |
| IMO | 9781877 |
| MMSI | 247435300 |
| commissioning | February 2022 |
| shipyard | Meyer shipyard, Papenburg |
| home port | Genoa |
| shipping company | AIDA Cruises |
| owner | Costa Cruises |
| flag | Italy |
| onboard language | German |
| onboard currency | Euro |
| ship type | Helios class |
| sister ships | AIDAnova |
| building-costs | US$950 million |
| length | 337 m |
| Broad | 42 m |
| draft | max. 8.60 m |
| decks | 20 |
| speed | 17 knots |
| drive | LNG drive, approx. 61,760 kW |
| curb weight | 13000t |
| crew | 1500 |
| passengers | 5200 |
| cabins | 2732 |
| pools | 6 |
| Bars & Clubs | 23 |
| restaurants | 17 |
| casinos | 1 |
| fitness center | Yes |
| spa | Yes |
Captain of the AIDAcosma is Vincent Cofalka. He is in his early 40s, Austrian and has been working for AIDA since 2010. After completing his maritime studies at the University of Oldenburg / Wilhelmshaven in 2001, he began his career as 3rd and 2nd officer on container and multi-purpose freighters.
A second degree in shipping company logistics followed in 2008, after which he became a captain on board container ships on global voyages. He has been transporting passengers to their dream destinations for AIDA since 2011.
The AIDAcosma is the second ship of the Helios class, which is equipped with a variety of modern environmental technologies and a low-emission liquefied natural gas (LNG) propulsion system. Originally, nine ships were to be built for the Carnival Corporation by 2023, three of them for AIDA Cruises. These are built by Meyer Werft GmbH in Papenburg and Meyer Turku in Turku. The AIDAcosma is thus the successor to the AIDAnova.
90% of the ship is barrier-free. The name stands for the vastness of space and is intended to symbolize the countless entertainment options on board. The highlight of the Kussmundschiff is the Ocean Deck, which includes an infinity pool and water slides across several decks and various courses.
A total of 17 restaurants and 23 bars provide culinary delights and all-round catering on board. In addition to wellness and sports, special offers for children, pools and saunas, the ship offers a wide range of entertainment options that leave nothing to be desired.
Aidacosma Tour Oman Dubai Abu Dhabi Doha Muskat
This video shows an impression of the tour Oman, Dubai, Abu Dhabi, Doha an Muskat in 4K.
Single cabin inside: 10m² (1 person)
Single cabin balcony: 14m² incl. balcony 3.5m² (1 person)
Inside cabin: 13-16m² (max. 4 people)
Sea view cabin: 16-19m² (max. 4 people)
Balcony cabin: 17-21.5m² incl. balcony 3-4m² (max. 4 people)
Veranda cabin comfort: 22-28.5m² incl. balcony 4.5-5.5m² (max. 4 people)
Veranda cabin deluxe: 29-42.5m² incl. balcony 5-12m² (max. 5 people)
… with lounge: 28m² incl. balcony 4m² & Lounge 7m² (max. 5 people)
Junior Suite: 61m² incl. sun deck 27m² (max. 4 people)
… with lounge: 28m² incl. balcony 4m² & Lounge 7m² (max. 4 people)
Suite: 73-83m² incl. balcony 33-38m² (max. 5 people)
Penthouse Suite: 2 decks, 73m² incl. sun deck 20m² (max. 4 people)
The 2732 cabins and suites on board the AIDAcosma offer an all-round carefree package, a total of 5200 passengers can feel comfortable here. You can choose between single or double beds.
Setup
All cabins have a bathroom with toilet and shower or, if desired, a bathtub. In addition, each cabin has a comfortable seating area.
Equipment
In each cabin you will find bath towels, care products, bathrobes, telephone, radio, interactive TV, air conditioning and a safe. Depending on the package booked, you also get 2 bottles of mineral water and fresh fruit every day.
Internet use is included on every trip with limited data volume.
AIDACosma Song - We love to see you smile
The following video shows the song "We love to see you smile" by the Cosma Crew.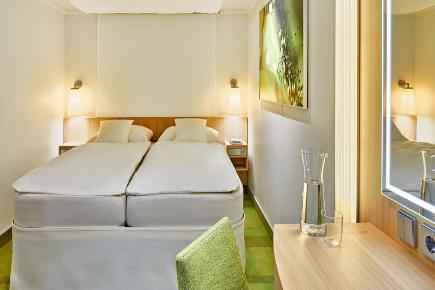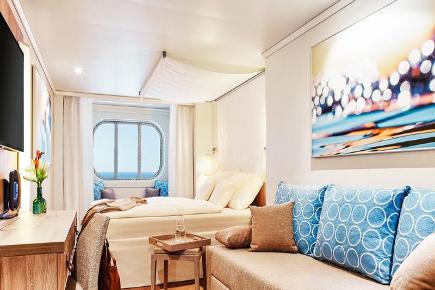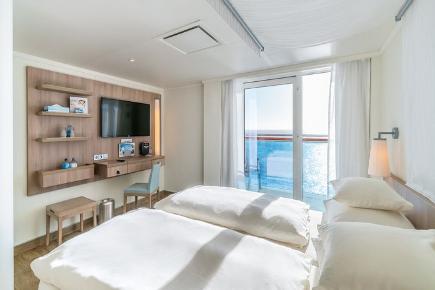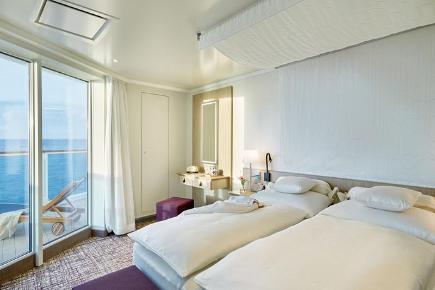 Beach House Restaurant
Bella Donna Restaurant
East Restaurant
Fuego Restaurant
Market Restaurant
Yacht Club Restaurant
Brauhaus beer garden
Ocean's Seafood Restaurant
Burger Restaurant
French Kiss Brasserie
Ristorante Mama Mia
Street Food (Snacks)
Rossini Gourmetrestaurant
Time Machine – Mottorestaurant
Steak House Churrascaria
Sushi Restaurant
Asia Restaurant Teppanyaki
AIDA lounge
Pool Bar
Ocean Bar
Eisbar
Café Mare
French Kiss
Artbar
Rossini Bar
AIDA Bar
Cosma Bar
Lanai Bar
Loge 7 Bar
Rock Box Bar
Vinothek
Casino Bar
The Cube
Souvenir shop
AIDA shop
Kiosk
Jeweler
Photo Shop
Perfumery
Mini Club 0.5-3 years
Kids Club 3-11 years
Wave Club 12-17 years
Kids & Teen's Wellness/Spa
Teens Shore Excursions
Baby room
Babysitting service
Children's Programs
Teen Lounge
Kids Club
Video Games
All-day childcare
Children's Restaurant
Onboard DJ
Karaoke
Shows
Dance nights
Theatrium
Waterslide
Theme nights
Onboard programs
Entertainment Games
Live Music
Discotheque/Nightclub
Casino
Onboard DJ
Karaoke
Shows
Dance nights
Theatrium
Waterslide
Theme nights
Onboard programs
Entertainment Games
Live Music
Discotheque/Nightclub
Casino
E-bike excursions
E-scooter excursions
Fitness check
HYPOXI Studio
climbing garden
Strength Training
Personal Trainer
Pilates
Snorkeling trips
Snorkeling
Sport outer deck
Metabolism Packs
TRX fitness training
Zen Lounge
Diving and snorkeling equipment
Stand Up Paddling excursions
Zumba
Fitness Center
Fitness Classes
Aerobics
Darts
cardio area
Power Plate
Volleyball field
basketball court
Minigolf
Shuffleboard
Jogging course
Yoga
Nordic Walking
Bike trips
Golf Excursions
Segway Excursions
Diving excursions
Hiking excursions
Infinity Pool
Body & Soul Organic Spa
Hairdresser
Cosmetic applications
Body wraps in a water bed
Caribbean wellness treatment
Experience shower
Manicure / pedicure
Ayurvedic massage
Foot reflexology
La Stone Massage
Finnish sauna
Kelosauna
Wellness Suite
Wellness oasis
Thalasso
Shiatsu
Rasul
Massage
Lomi Lomi
Nail Spa
Quiet corner
Sauna
Aroma sauna
Steam bath
Biosauna
Deck plans - all ship decks of the AIDAcosma to click through
Here you can see the deck plans for the AIDAcosma. Use the arrows to click left or right through the individual decks of the AIDA ship.


















Deck 1 to 2: Are reserved for the crew, storage rooms and machines
Deck 3: Infirmary
Deck 4: Pure cabin deck
Deck 5: Market Restaurant, Laundromat
Deck 6: Theatrium, TV Studio X, Art Gallery, Shopping, Bars & Restaurants, photo studio
Deck 7: outer deck, wellness & Spa, Bars & Restaurants, Lanai Deck, Casino, Fan Shop, Theatrium, Smoking Area
Deck 8: sun deck, wellness area, sports area, mini golf, hairdresser, lounges & Bars, Theatrium
Deck 9 to 15: Pure cabin decks
Deck 16: Pool Bar and Pool Deck, Game Center, Restaurants, Kids Club, Teens Club
Deck 17: Sun Deck, Beach Club, Outdoor Sports Deck, Boulder Wall / Climbing Wall, Ziel Racer, Ziel Waterslide, Skywalk
Deck 18: Sundeck, Smoking Area, Sports Deck
Deck 19: sun deck, nudist area / body & Soul, Water Slides / Racer & water slide
Deck 20: Start Waterslides / Racer & water slide
Current deck plans to download / print out
You can use the following link to download and print out the current deck plans of the AIDAcosma.
Full-length AIDAcosma christening
The AIDAcosma was christened on April 9, 2022 in Hamburg by christening captain Vincent Cofalka and godmother Kristina Vogel – two-time Olympic champion and 11-time world champion in track cycling. The christening captain of the AIDAcosma will continue to be in charge on the ship's future voyages. The AIDA ship made its maiden voyage from February 26, 2022 from Hamburg for a short trip or metropolitan tour. The cruise ship's first cruise was in the North Sea and the English Channel to destinations in the Netherlands, France and Great Britain.
Download the AIDAcosma ship brochure
The ship brochure gives you an insight into the highlights and opportunities that await you on board before you start your journey.
FAQ - Frequently asked questions about the AIDAcosma
For whom is which cabin best suited?
For families: balcony or veranda cabin – lots of space & best price performance ratio
For singles: Single cabin with balcony – great view
For couples: Junior suite – the perfect place to retreat for two
For the frugal: – Inside cabin – optimal at the best price
For luxury lovers: suites or penthouse suites – lots of extras and special amenities
Who is currently the captain on the AIDAcosma?
Current captain on the Cosma is Vincent Cofalka, since January 14th, 2023.
How many cabins and passengers does the AIDAcosma have?
With 2732 cabins, the AIDAcosma can accommodate up to 5200 passengers.
Where is the AIDAcosma sailing?
The AIDAcosma is currently sailing in the Mediterranean area from Mallorca or Barcelona and in the Orient from Dubai or Abu Dhabi. In addition, combined trips are offered, where you travel from the Mediterranean to the Orient and can explore numerous destinations there.
Where can I book trips on the AIDAcosma?
Bookings can be made through travel agencies or online through booking portals. The easiest way to do this is directly via the
AIDA website
, so you can ask questions directly to the shipping company .
May I smoke on the AIDAcosma?
Yes, there are special smoking areas on the ship that are signposted accordingly. Smoking is not permitted in the restaurants and cabins!
Is there internet on board the AIDAcosma?
Yes, there is internet on the ship and usually a limited amount of data is included. However, depending on the tariff booked, this may have to be booked separately. AIDA Cruises offers various Internet packages for this purpose. The reason for this is that there is no regular telephone or internet reception on the seas and this has to be realized via satellite connections, which incurs corresponding costs. The booking of Internet packages is of course not mandatory, but then you only have Internet access via your own mobile phone tariff when you are in port and have the appropriate reception.
Does the AIDAcosma have an indoor pool?
Yes, the AIDAcosma has an entire indoor pool landscape with different pool areas and suitable bars and entertainment options.
Does the AIDAcosma have a slide / outside slide?
Yes, the AIDAcosma offers a variety of slides that span several decks, including slides on the outer decks.
What is LNG propulsion?
LNG stands for Liquefied Natural Gas and is a liquid gas. The AIDAcosma can be powered 100% with it. This achieves a significant reduction in emissions, both on the high seas and while the ship is in port. The ship is refueled by special tankers and can then be operated with it for several days.
Where and by whom was the AIDAcosma built?
Like most AIDA ships, the AIDAcosma was built in the Meyer shipyard in Papenburg, a German shipbuilding company with a long tradition.
How expensive was the construction of the AIDAcosma?
The construction costs of the AIDAcosma amount to around 950 million US dollars, which corresponds to around 900 million euros.
AIDA fleet – All AIDA cruise ships at a glance