The map always shows you the current position and route of the Queen Elizabeth on the world map. You can zoom in or out with the mouse (or with your fingers on the smartphone/tablet) or with the + buttons and move the map freely with the mouse (or your fingers).
Current live webcam of Queen Elizabeth
Here you can see the current view of the Queen Elizabeth from the bow camera. The webcam is provided by Cunard Line and broadcasts live images 24 hours a day, which are automatically updated every few minutes. So you can follow where the cruise ship is currently on its way and what is happening around the ship at any time. Especially when the cruise ship is in port, it is exciting to take a look at the web camera images. It can happen that the webcam is temporarily unavailable due to a poor satellite connection.
Current travel routes and travel areas of the Queen Elizabeth
Here you will find an overview of the current routes or trips that are offered for the Queen Elizabeth, with the duration of the trip and the major cities served. The ship mainly offers trips to Asia with Japan, South Korea, Indonesia or Taiwan, Australia or Alaska. The possible travel duration ranges from short trips of only 2 to transatlantic trips over a month with 42 days.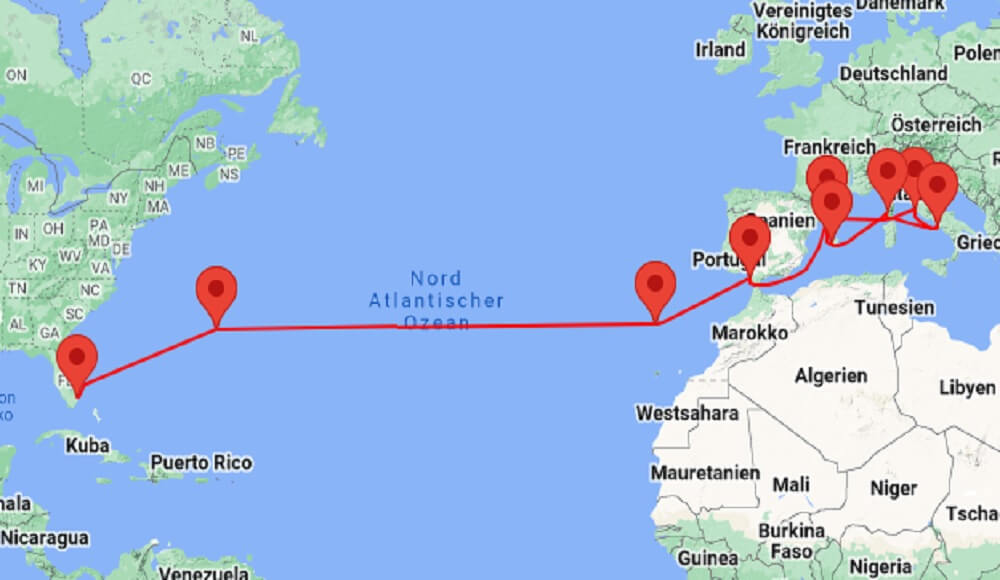 Transatlantic cruise from Fort Lauderdale to Barcelona
e.g. 21 days with the Queen Elizabeth in September
Metropolises, among others:
Fort Lauderdale, Hamilton, Madeira, Cadiz, Barcelona
From €3,190 per person including flight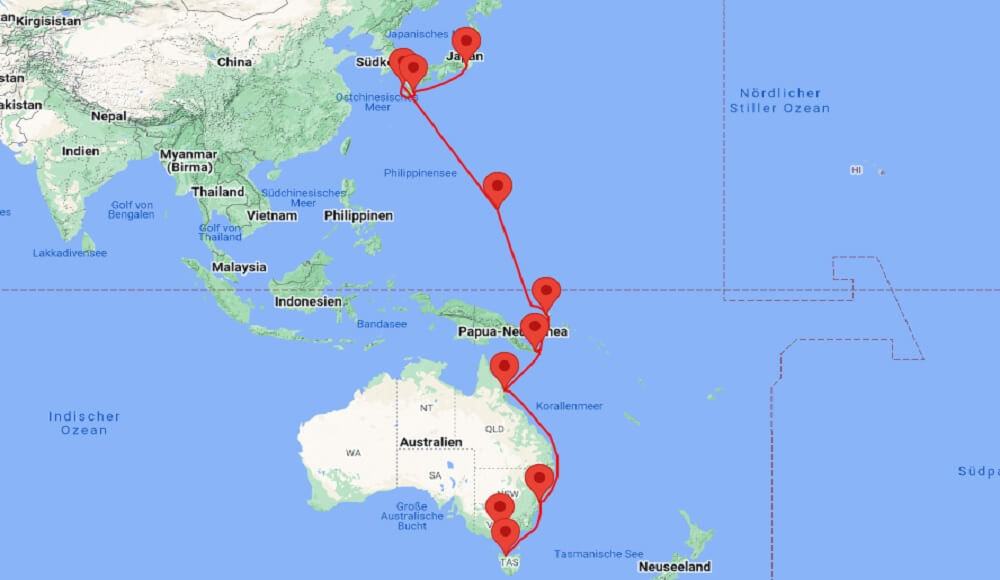 Australia cruise from Melbourne to Tokyo
e.g. 22 days with the Queen Elizabeth in March
Metropolises, among others:
Melbourne, Burnie, Sydney, Yorkey Knob, Alotau, Rabaul, Guam, Nagasaki, Tokyo
From €3,986 per person including flight
Video tour and the Queen Elizabeth
The following video tour gives an impression of the Queen Elizabeth. So you can get an idea of the popular cruise ship in advance. In the video you can see the cabins & suites, restaurants & Bars, the wellness areas, offers for children, theatres, shopping possibilities and other entertainment offers.
Ship data and equipment of the RMS Queen Elizabeth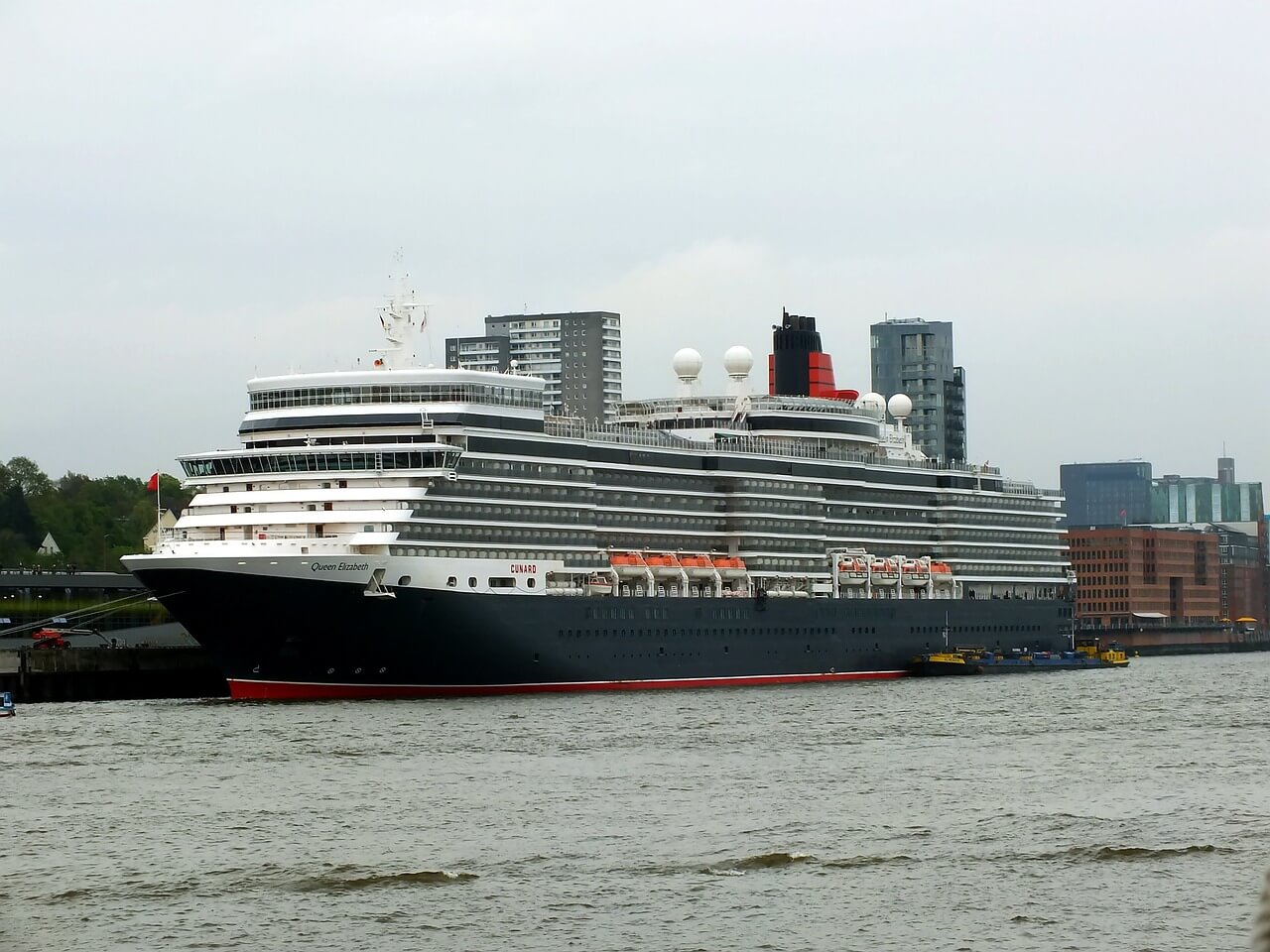 | | |
| --- | --- |
| IMO | 9477438 |
| MMSI | 310625000 |
| commissioning | 2010 |
| shipyard | Fincantieri – Cantieri Navali S.p.A Monfalcone Shipyard, Italy |
| home port | Hamilton |
| shipping company | Cunard Line Ltd. |
| owner | Cunard Line Ltd. |
| flag | bermuda |
| onboard language | English |
| onboard currency | U.S. dollar |
| building-costs | $708 million |
| length | 294 m |
| Broad | 32.2m |
| draft | max 7.8m |
| decks | 12 |
| speed | 24 knots |
| drive | 64,000 kW (87,016 hp) |
| curb weight | 39500t |
| crew | 911 |
| passengers | 2081 |
| cabins | 1045 |
| pools | 2 |
| Bars & Clubs | 14 |
| restaurants | 10 |
| casinos | 1 |
| fitness center | Yes |
| spa | Yes |
The Queen Elizabeth is a cruise ship owned by the British shipping company Cunard Line and was completed in 2010 in the Italian shipyard Fincantieri and went on its maiden voyage in October 2010. On a total of 12 decks, it offers space for around 2029 passengers, who are looked after by around 1000 employees.
Unlike her sister ship, the Queen Mary 2, she is no longer reminiscent of the classic ones Passenger ships Queen Elizabeth and Queen Elizabeth 2 ajar. So it carries neither the suffix R.M.S. for Royal Mail Ship the external appearance is still similar to that of the predecessor ships.
The ship has numerous facilities that make life on board more comfortable. There's a fitness center, spa, casino, library, and a range of bars and restaurants. These facilities offer passengers a wide range of activities and amenities.
Passengers are offered an unforgettable cruising experience that reflects the style and elegance of the golden era of shipping. With her tastefully decorated cabins, modern facilities and an excellent range of activities and amenities, the ship is a true jewel among cruise ships.
Cunard Line's ship Queen Elizabeth is part of a long tradition of queen names in the history of the shipping company.
The ship's naming dates back to 2010, when Cunard officially unveiled the ship and announced the name. The name pays homage to the two Queens of Elizabeth – the reigning (at the time of the ship's commissioning) Queen Elizabeth II and her grandmother, Queen Elizabeth I.
The naming reflects the long history and reputation of the shipping company and is a gesture of respect for the two queens.
Inside cabin – 14-23 m², 1-4 people
Outside cabin – 17-19 m², 1-4 people
Balcony cabin – 21-44m², 1-5 people
Suite with balcony – 31-139 m², 1-6 people
The cabins on the ship offer different facilities and sizes.
From standard inside cabins to luxurious suites, there is something for everyone. The cabins are tastefully furnished and have a living area, a separate sleeping area and a larger bathroom.
The suites on the ship offer the ultimate luxury and comfort for an unforgettable cruise with 31-139sqm. With a private balcony, separate living area and opulent bathroom, each suite is its own retreat at sea.
The suites also offer exclusive access to separate areas of the ship and receive exclusive offers such as a concierge service.
The cabins are very spacious, so the inside and outside cabins are 14-23sqm, the balcony cabins are 21-44sqm. They are modernly furnished and have a private bathroom, a desk, a minibar and a flat-screen TV, WiFi is also available.
Ship equipment and service
Golden Lion Pub (Pub)
Lido Pool Grill (snacks)
Cafe Carinthia (snacks)
Kings Court/Lido Buffet Restaurant
Courtyard (Restaurant for suite guests)
Britannia (Restaurant for Britannia Inside, Outside & Balcony guests)
Britannia Club (Restaurant for Britannia Club Balcony Stateroom guests)
Princess Grill (Princess Suites guests)
Queens Grill (Restaurant for Queens Suites guests)
Steakhouse at The Verandah
Coriander (Indian Restaurant)
La Piazza (Italian Restaurant)
Bamboo (Panasiatic)
Aztec (Mexican Restaurant)
Smokehouse (American)
Al Fresco (Mediterranean Restaurant)
Chart Room
Commodore Club
Golden Lion Pub
Grill's Lounge & Terrace (exclusively for suites and penthouse guests)
Lido Pool Bar
Midships Bar & Lounge
Pavilion Bar
Queens Room (ballroom)
Winter Garden
Yacht Club
Empire Casino
Churchill's Cigar Lounge
Admiral's Lounge
Gins & fizz
Bookstore
Shop
Shopping Promenade
Boutique
Jeweler
Evening babysitting/care
Kindergarten
Night Nursery up to 2 years
The Play Zone 2-7 years
The Kids Zone 8-12 years
The Teen Zone 13-17 years
Baby room
Playroom
Children's Programs
Inside and outside play area
Kids Club
Teen's Zone
Video Games
All-day childcare
Onboard DJ
Onboard pianist
Bridge
Cabaret
Karaoke
Concerts & Readings
Quiz events
Shows
Dance nights
Dance floor/stage
Workshops
Queen's Room
Dance Lessons
Bingo
Theme nights
Onboard programs
Lectures
Entertainment Games
Live Music
Slots
Cinema
Discotheque/Nightclub
Casino
Theatre
Computer courses
Apple iStudy
Internet station
Art Lessons
Shore Excursion Office
Creative courses museum trail
remove host
Computer University
Photo Studio
Conservatory
Onboard Photographer
Photo gallery
Ironing service
Card room
Art gallery
Conference Center
Laundry
Library
WLAN
Golf tee
Croquet
Personal Trainer
Pilates
Quoits
Spinning
Gymnastics
Fitness Center
Fitness Classes
Aerobics
Darts
Fencing courses
Paddle tennis
Sport deck with boules
Golf driving range net
Table tennis
Shuffleboard
Jogging course
Bocci
Yoga
Hydropool
Mareel Spa
Aromatherapy
Hairdresser
Cosmetic applications
Manicure/pedicure
Acupuncture
Beauty applications
Thermal suites
Massage
Wellness & Spa area
Quiet corner
Sauna
Steam bath
Beauty salon
Hot Stone
Deck plans - Click through all decks of the Queen Elizabeth
Deck plans – Click through all decks of the Queen Elizabeth
Current deck plans to download / print out
You can use the following link to download and print out the current deck plans of the Queen Elizabeth.
FAQ - Frequently Asked Questions About Queen Elizabeth
For whom is which cabin best suited?
For families: balcony or veranda cabin – lots of space & best price performance ratio
For singles: Single cabin with balcony – great view
For couples: Junior suite – the perfect place to retreat for two
For the frugal: Inside cabin – optimal at the best price
For luxury lovers: suites or penthouse suites – lots of extras and special amenities
How many cabins and passengers does the Queen Elizabeth have?
With 1045 cabins, the Queen Elizabeth can accommodate up to 2081 passengers.
Where is the Queen Elizabeth going?
The Queen Elizabeth mainly offers trips to Asia, Australia or Alaska. The ship offers both short trips of a few days and transatlantic trips lasting more than a month. The duration of the journey as well as the routes and destinations are extremely varied.
Where is the Queen Elizabeth going?
The Queen Elizabeth mainly offers trips to Asia, Australia or Alaska. The ship offers both short trips of a few days and transatlantic trips lasting more than a month. The duration of the journey as well as the routes and destinations are extremely varied.
Can I smoke on the Queen Elizabeth?
Yes, there are special smoking areas on the ship that are signposted accordingly. Smoking is not permitted in the restaurants and cabins!
Is there internet on board the Queen Elizabeth?
Yes, there is internet on the ship and usually a limited amount of data is included. However, depending on the tariff booked, this may have to be booked separately. In addition, Cunard Line offers various Internet packages. The reason for this is that there is no regular telephone or internet reception on the seas and this has to be realized via satellite connections, which incurs corresponding costs. The booking of Internet packages is of course not mandatory, but then you only have Internet access via your own mobile phone tariff when you are in port and have the appropriate reception.
Does the Queen Elizabeth have an indoor pool?
Yes, the Queen Elizabeth has an indoor pool with bars and entertainment to match.
How much did the Queen Elizabeth cost to build?
The Queen Elizabeth cost around 708 million US dollars to build.
Cunard Line cruise ships