The map always shows you the current position and route of the Queen Victoria on the world map. You can zoom in or out with the mouse (or with your fingers on the smartphone/tablet) or with the + buttons and move the map freely with the mouse (or your fingers).
Current webcam of the Queen Victoria live
Here you can see the current view of the Queen Victoria from the bow camera. The webcam is provided by Cunard Line and broadcasts live images 24 hours a day, which are automatically updated every few minutes. So you can follow where the cruise ship is currently on its way and what is happening around the ship at any time. Especially when the cruise ship is in port, it is exciting to take a look at the web camera images. It can happen that the webcam is temporarily unavailable due to a poor satellite connection.
Current travel-routes and travel areas of the Queen Victoria
Here you will find an overview of the current routes or trips that are offered for the Queen Victoria, with the duration of the trip and the major cities served. The ship mainly offers voyages in Western Europe, e.g. with the Netherlands, as well as around the Mediterranean with Spain, Italy, Greece and Turkey, among others. The itineraries and the duration of the journey vary enormously, so that there is something for everyone.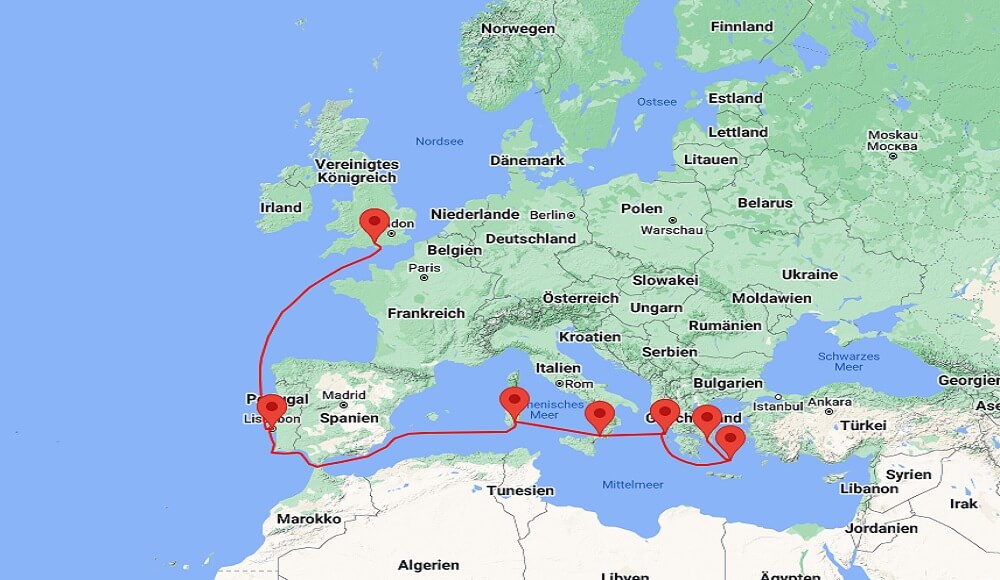 Mediterranean from Athens to Southampton
e.g. 12 days with Queen Victoria in October
Metropolises, among others:
Athens, Santorini, Kefallinia, Cagliari, Lisbon, Southampton
From €2,626 per person / incl. flight €3,190
Video tour and the Queen Victoria
The following video tour gives an impression of Queen Victoria. So you can get an idea of the popular cruise ship in advance. In the video you can see the cabins & suites, restaurants & Bars, the wellness areas, offers for children, theatres, shopping possibilities and other entertainment offers.
Ship data and equipment of the Queen Victoria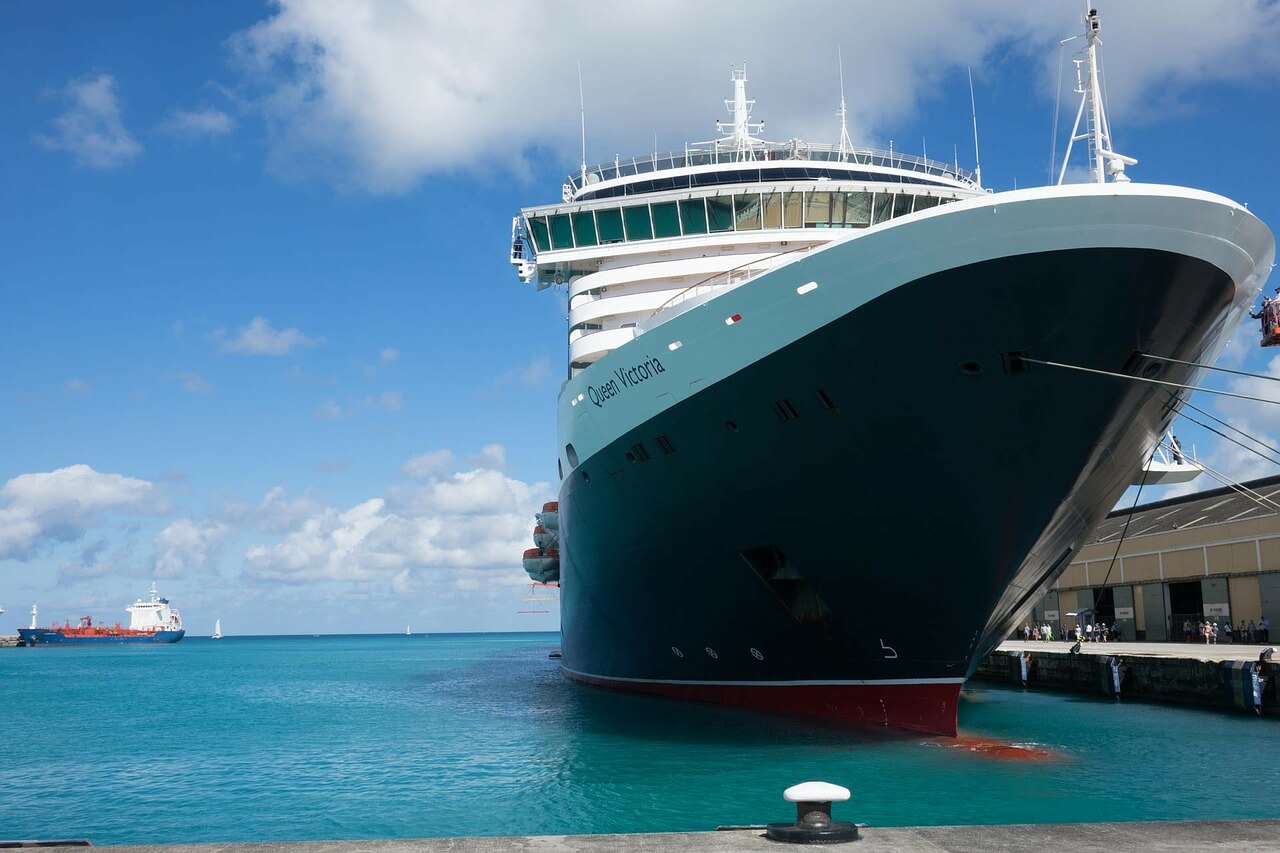 | | |
| --- | --- |
| IMO | 9320556 |
| MMSI | 310624000 |
| commissioning | 2007 |
| renovation | 2018 |
| shipyard | Fincantieri (Italy) |
| home port | Hamilton |
| shipping company | Cunard Line Ltd. |
| owner | Cunard Line Ltd. |
| flag | bermuda |
| onboard language | English |
| onboard currency | U.S. dollar |
| building-costs | 873 million euros |
| length | 294 m |
| Broad | 32.3m |
| draft | max 8m |
| decks | 12 |
| speed | 24 knots |
| drive | 64,000 kW (87,016 hp) |
| curb weight | 39500t |
| crew | 913 |
| passengers | 2061 |
| cabins | 964 |
| pools | 2 |
| Bars & Clubs | 14 |
| restaurants | 9 |
| casinos | 1 |
| fitness center | Yes |
| spa | Yes |
The RMS Queen Victoria is an impressive cruise ship that combines luxurious cruising with British elegance. The ship features an elegant and classic design reminiscent of the Cunard fleet's transatlantic steamships, while offering modern amenities and entertainment options.
Construction of the Queen Victoria began in 2006 and by December 2007 the ship was ready for her maiden voyage.
Accommodating up to 2,061 passengers, the luxury ship features a range of luxurious staterooms and suites, including ocean-view balcony staterooms and sumptuous suites with private balconies and butler service.
A special feature of the cruise ship is the Britannia Club Restaurant, which serves exquisite British cuisine. In addition, the ship offers a variety of restaurants and bars, including the first-class specialty restaurant The Verandah, the beautiful ballroom and the magnificent library with comfortable leather chairs.
Entertainment and relaxation are also provided. The ship features a world-class gym, cinema, theater and stage for live shows. There is also a selection of shops including a branded boutique and a jeweler.
The Victoria offers her passengers a truly royal experience at sea. The elegant and comfortable environments on board, combined with the excellent service and cuisine, ensure an unforgettable cruise.
The ship was built in the Fincantieri shipyard in Marghera (Italy) and put into service in 2007. After a transatlantic crossing together with the Queen Elizabeth 2, the two ships met with her sister ship the Queen Mary 2 in New York Harbor in January 2008, which was celebrated with a large fireworks display, among other things.
On the ship there are 2 heated swimming pools, a library with over 6000 books, various internet cafes, 9 restaurants and 14 bars.
In addition, various sports offers such as shuffleboard, table tennis, a running track, spa and fitness center and a casino. The Royal Court Theater also hosts musicals, theater and shows.
Video: Reportage - Queen Victoria
The following video shows the Queen Victoria being overhauled and made fit again, from start to finish.
Inside cabin – 14-23 m², 1-4 people
Outside cabin – 17-19 m², 1-4 people
Balcony cabin – 21-44 m², 1-5 people
Junior Suite – 31-48 m², 1-4 people
Suite – 45-198 m², 1-6 people
The inside cabins have a size of 14-23sqm, the outside cabins are 17-19sqm and also have a small living area and a window.
Balcony cabins offer 21-44sqm and their own private balcony.
The various suites are between 31 and 198 square meters and offer some special services such as minibar, butler service or other exclusive luxury services.
The cabins on the ship are divided into different categories to meet the needs and desires of all guests. From luxurious suites to comfortable inside cabins.
The suites offer the ultimate in luxury and comfort for an unforgettable cruise. With a private balcony, separate living area and opulent bathroom, each suite is its own retreat at sea.
Suites also offer exclusive access to separate areas of the ship.
The cabins are modernly furnished and have a private bathroom, a desk, a minibar and a flat-screen TV, WiFi is also available.
Ship equipment and service
Britannia (for Britannia Inside, Outside & Balcony guests)
Britannia Club (for Britannia Club Balcony Stateroom guests)
Princess Grill (for Princess Suite guests)
Queens Grill (for Queens Suites guests)
Kings Court/Lido Buffet Restaurant
Courtyard (Restaurant for suite guests)
Verandah Restaurant (Steakhouse)
Coriander (Indian)
La Piazza (Italian)
Bamboo (Panasiatic)
Aztec (Mexican)
Smokehouse (American)
Al Fresco Dining (Mediterranean)
Chart Room
Commodore Club
Golden Lion Pub
Grill's Lounge & Terrace
Lido Pool Bar
Midships Bar & Lounge
Pavilion Bar
Queen's Room
Winter Garden
Yacht Club
Empire Casino
Churchill's Cigar Lounge
Admiral's Lounge
Laurent Perrier
Champagne Bar
Gins & fizz
Bookstore
Shop
Shopping Promenade
Boutique
Jeweler
Evening babysitting/care
Children's menu
Night Nursery up to 2 years
The Play Zone 2-7 years
The Kids Zone 8-12 years
The Teen Zone 13-17 years
Baby room
Children's Programs
Inside and outside play area
Kids Club
Teen's Zone
Video Games
All-day childcare
Onboard DJ
Bridge
Cabaret
Karaoke
Concerts & Readings
Quiz events
Shows
Dance nights
Dance floor/stage
Workshops
Bingo
Theme nights
Onboard programs
Lectures
Entertainment Games
Live Music
Slots
Cinema
Discotheque/Nightclub
Casino
Theatre
Art gallery
Conference Center
Laundry
Library
Computer courses
Apple iStudy
Internet station
Creative Classes
Art Lessons
WLAN
Cunard Insights Education Program
Gentlemen Host
Computer University
Photo Studio
Conservatory
Onboard Photographer
Photo gallery
Ironing service
Golf tee
Personal Trainer
Pilate
Quoits
Spinning
Gymnastics
Fitness Center
Fitness Classes
Aerobics
Darts
Fencing courses
Paddle tennis
Golf driving range net
Table tennis
Shuffleboard
Jogging course
Yoga
Hydropool
Mareel Spa
Aromatherapy
Hairdresser
Cosmetic applications
Manicure/pedicure
Acupuncture
Beauty applications
Thermal suites
Massage
Wellness & Spa area
Quiet corner
Sauna
Steam bath
Hot Stone
Deck plans - Click through all decks of the Queen Victoria
Here you can see the deck plans for the Queen Victoria. Use the arrows to click left or right through the individual decks of the Cunard Line ship.
Current deck plans to download / print out
You can use the following link to download and print out the current deck plans of the Queen Victoria.
FAQ - Frequently Asked Questions About Queen Victoria
For whom is which cabin best suited?
For families: balcony or veranda cabin – lots of space & best price performance ratio
For singles: Single cabin with balcony – great view
For couples: Junior suite – the perfect place to retreat for two
For the frugal: Inside cabin – optimal at the best price
For luxury lovers: suites or penthouse suites – lots of extras and special amenities
How many cabins and passengers does the Queen Victoria have?
With 964 cabins, the Queen Victoria can accommodate up to 2061 passengers.
Where does Queen Victoria sail?
The Queen Victoria mainly offers voyages in Western Europe, for example from Germany to the Netherlands, as well as voyages in the western and eastern Mediterranean, including Spain, Italy, Greece and Turkey. The travel destinations and duration are extremely varied and offer a large selection.
Where can I book voyages on Queen Victoria?
Bookings are possible through
travel agencies
or online through
booking portals
. The easiest way to do this is with the travel provider
e-hoi
, which we recommend not least because of the good offers .
Can I smoke on the Queen Victoria?
Yes, there are special smoking areas on the ship that are signposted accordingly. Smoking is not permitted in the restaurants and cabins!
Is there internet onboard Queen Victoria?
Yes, there is internet on the ship and usually a limited amount of data is included. However, depending on the tariff booked, this may have to be booked separately. In addition, Cunard Line offers various Internet packages. The reason for this is that there is no regular telephone or internet reception on the seas and this has to be realized via satellite connections, which incurs corresponding costs. The booking of Internet packages is of course not mandatory, but then you only have Internet access via your own mobile phone tariff when you are in port and have the appropriate reception.
Does the Queen Victoria have an indoor pool?
Yes, the Queen Victoria has an indoor pool with bars and entertainment to match.
How much did the Queen Victoria cost to build?
The construction costs of the Queen Victoria amounted to around 873 million euros.
Cunard Line cruise ships